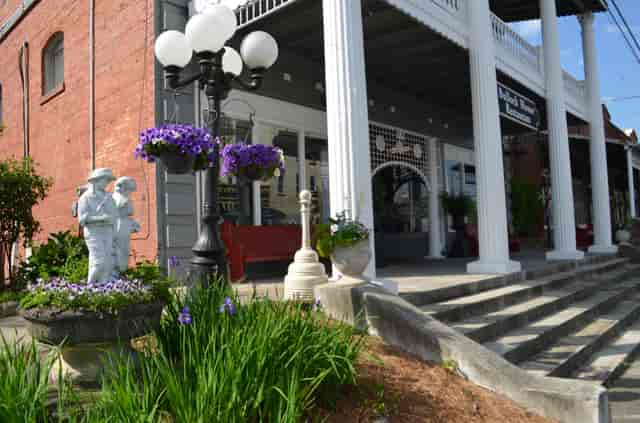 About the Bulloch House Restaurant
Southern hospitality is not just a saying; it's a way of life that exists at the Bulloch House in Historic Warm Springs, Georgia.
The Bulloch House Restaurant is nestled in the charming downtown area of Warm Springs, Georgia. The restaurant is known for its delicious Southern food and charm. Owners Peter and Sandy Lampert took over the Bulloch House in 2010, and along with long-time staff members, they've been proudly serving dishes that embody the Southern spirit to Warm Springs and its many guests.

The Bulloch House offers Southern meat dishes and fresh vegetables. From our fried chicken to homemade biscuits, the Bulloch House embodies Old South cookin'. We're guided by tradition and a passion for tasty, authentic eats. After all, Southern hospitality isn't just a saying - it's a way of life! We hope you'll join us for a true Southern experience as you visit or drive through beautiful Warm Springs.
History of the Bulloch House Restaurant
Our authentic preparation of the region's best dishes comes from a rich history of down-home cooking. 

In 1990, Judy Foster and Charles & Sylvia Garrett purchased the Benjamin Bulloch House. The trio renovated the property and converted it into a restaurant. Over the years, the Bulloch House Restaurant developed a reputation for dishing up the finest Southern eats in the area to locals and visitors alike. Current owners Peter and Sandy Lampert purchased the Bulloch House in March 2011 and have carried on with the tradition of serving the best in Southern food.

In the early morning hours of June 10, 2015, lightning struck the Bulloch House, starting a devastating fire. The owners could only watch as thousands of embers flew through the air, destroying their passion. Sandy later recalled that the embers looked like fireflies dancing. Given the Lamperts' positive attitude, this wouldn't be the end for such an iconic Warm Springs fixture.

Resilient as ever, the restaurant found a new home downtown on Broad Street in a building even older than the Bulloch House. The building was originally a mercantile and later the Victorian Tea Room. 

Thanks to the dedication of the owners and members of the community, the Bulloch House restaurant reopened on December 1, 2015. Using reclaimed wood for tables and uncovering original brick, the new Bulloch House location retains its historic aesthetics.

Peter and Sandy expanded their gift shop into one of Bullochville's original buildings, now called Fireflies Gift Boutique. In the rear of the gift shop, they have added a second smaller eatery, the Lightnin' Bugs Bakery and Café that serves coffee, delicious baked goods and breakfast items.

The Bulloch House Restaurant stands as a testament to the important role that the Bullochs played in the history of Warm Springs.