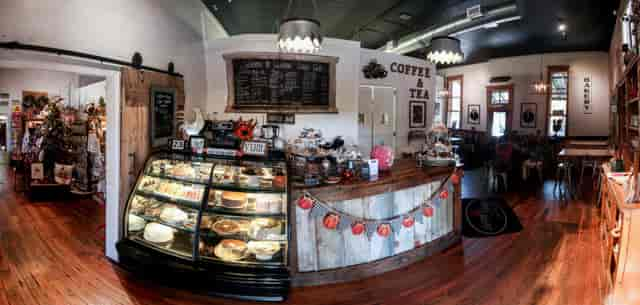 Welcome To Lightnin' Bugs Cafe
The safety of our customers and staff is our priority. We are closely monitoring the CDC's recommendations regarding COVID-19. The cafe is still closed, but our gift shop is now open. We look forward to reopening soon!
Come and Visit
Seasonal Hours
Mon. 11:00AM - 3:00PM
Tues. 11:00AM - 3:00PM
Wed. - CLOSED -
Thurs. 11:00AM - 3:00PM
Fri. 11:00AM - 5:00PM
Sat. 9:30AM - 5:00PM
Sun. 9:30AM - 4:00PM


Welcome to Lightnin' Bugs Cafe! Located right behind the Fireflies Gift Shop and just a few doors down from the Bulloch House, we serve delicious lunch items, Southern baked goods, assorted coffees and treats. Stop in for lunch or come by for dessert.
Try our specialty cakes, pies, cookies, muffins, fudge, divinity, and more – all baked on the premises. Featuring holiday & seasonal specialties throughout the year, come sip coffee and enjoy a baked good on our porch!
At Lightnin' Bugs Bakery & Cafe, we make fresh-baked goods daily and offer a full lunch menu.