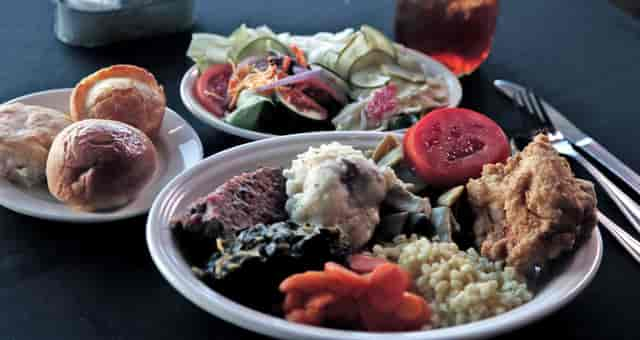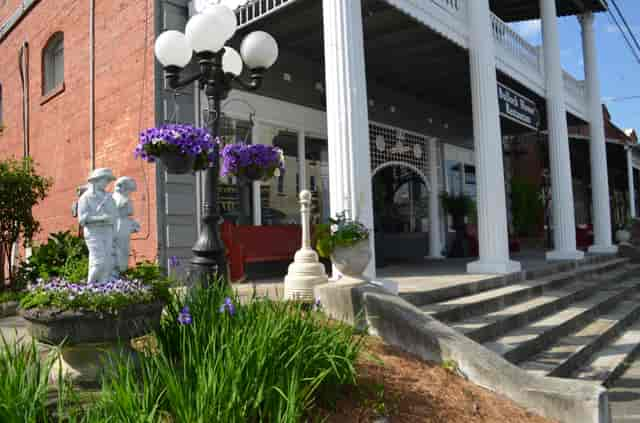 Welcome to the Bulloch House Restaurant
We're open!
The Bulloch House is open for lunch Tuesdays through Sundays, 11 AM - 3 PM, and closed on Mondays. We still feature our all-you-can-eat traditional Southern favorites, but served cafeteria-style. We are following the guidelines issued by the CDC and the Governor's office. Please sign up for our email list and follow us on Facebook to keep track of our hours and menus. We have missed our customers and we look forward to seeing you soon!

WE'RE HIRING! We are taking applications for kitchen/bus/dining room help. Apply in person Tuesday-Sunday, 11 am - 3 pm.
Protecting our customers and employees
The health and safety of our guests and our staff are our top priorities. We understand the major impact COVID-19 has on our community, and want to assure you that we are taking all precautions to stop the spread of the virus and keep everyone safe. 

We appreciate your patience as we navigate this challenging situation one day at a time, and by closely following the public health recommendations, how best to continue serving our community and maintaining our focus where it belongs: serving our valued customers and employees. 

We want you to feel safe and comfortable while dining with us. In addition to our current strict health and sanitary routines, we've implemented additional measures and procedures to protect you and your family.

We will continue to follow updates and protocols recommended by the CDC, local Departments of Public Health, and the World Health Organization to best ensure the safety of our guests and employees. For up-to-date information, please visit our Facebook page. Our business hours and menus are pending on a day-to-day basis. 

We care deeply about our community and thank you for your continued support of the Bulloch House.
Please Support Your Community Businesses!
You can help support the employees of small & independent businesses like ours. We have a special offer on our Bulloch House gift cards! Call us at (706) 655-9068 and press 4 to order Gift Cards. Purchase a $25 gift card with a $35 value; $50 with $70 value; $75 with $100 value; and $100 with $130 value. Offer valid now through November 1, 2020 on Bulloch House dine-in, take-out, merchandise, and gifts.
Southern hospitality is not just a saying. It's a way of life that exists at the Bulloch House in Historic Warm Springs, Georgia.
The Bulloch House Restaurant is nestled in the charming downtown area of Warm Springs, Georgia. The restaurant is known for its delicious Southern food and charm. Owners Peter and Sandy Lampert took over Bulloch House in 2010, and along with long-time staff members, they've been proudly serving dishes that embody the Southern spirit to Warm Springs and its many guests.

The Bulloch House offers Southern meat dishes and fresh vegetables. From our fried chicken to homemade biscuits, the Bulloch House embodies Old South cookin'. We're guided by tradition and a passion for tasty, authentic eats. After all, Southern hospitality isn't just a saying - it's a way of life! We hope you'll join us for a true Southern experience as you visit or drive through beautiful Warm Springs.
Our Hours
We are open for lunch!
Tuesday - Sunday, 11 AM - 3 PM
Closed Mondays
Find us in Warm Springs, Georgia
The Bulloch House
70 Broad Street, Warm Springs, Georgia 31830
Like and follow us on Facebook!
You are welcome to call ahead to make a reservation,
or find out what we are serving today.
We do not take reservations on Sundays and major holidays.